Eye test
I cannot tell a lie the eyes have gone!!!
HAVE YOURS ???????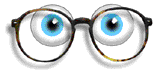 Do you need glasses??

Look carefully at the picture
Below.
Did you see the ass
Of the girl behind?






See below...






If you did, then have your
Eyes checked as this is the
shoulder of the girl in front
of her...
Found at
http://your-joking.atspace.co.uk/